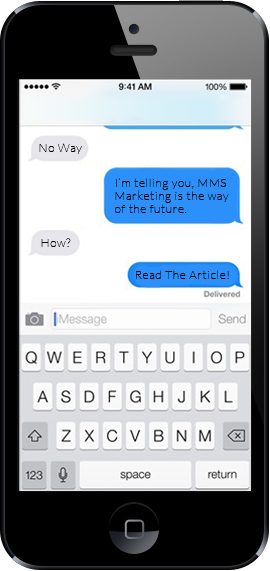 A few major corporations have started to believe that something as simple as a text message could become the best source of advertisement. In fact, ABC, Fox, and CBS have developed and enacted advertisements via MMS messaging, which greatly expanded the amount of people that can be accessed at a time.
In Chicago, thanks to a $3 million sponsoring fee from numerous local firms, Iris Mobile was created, to help increase the amount of promotional campaigns and secure customer support. One of the founders of the company, Deep Malik, claims that thanks to this company, companies can text any phone. He claims texting is the best way to expand customer base because they'll check their texts, whereas emails can easily be placed under spam and ignored. Other parts of various firms are developing the same idea because they too, see the potential in this.
In the past couple years, the amount of MMS messages sent has exponentially increased. For example, in 2012, nearly three quarters of a billion messages were sent. Although this way of advertising has been rising quite slowly, it is predicted that it will be subjected to change in the near future. In May 2013, it was found that only 38% of 745 marketers have used this way to advertise. However, when used in 2010, it was found that 98% of these texts were opened.
Some companies like Starbucks used a program that hacked MMS messages to determine each person's type of phone and whether they should continue sending them advertisements or not. Although the message only had an image to capture the attention using visual media to spread the word of Happy Hour, it achieved more than expected. The successful use of MMS, however, was claimed to have been not as efficient as that of SMS, because for SMS one could track location to determine consumer density.
The MMS messaging tactic is an expanding idea, and it could be a great source of advertisement; just depends on the firm.