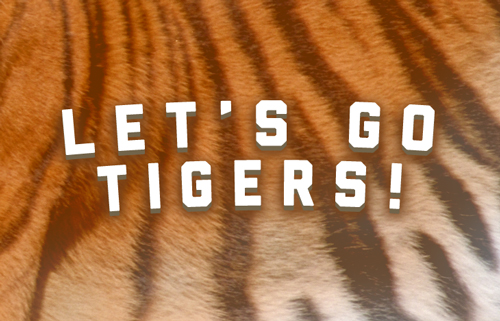 The Tiger's 114th Opening Day was on March 31, 2014, meaning good bye prolonged winter and hello baseball season! The old ball game is bringing together the rivalry between the Detroit Tigers and the Kansas City Royals. With Detroit being the host, the stadium is going to be packed! Let's see if the Tigers can go for the sweep later on today!
The Tigers opened with the following starting lineup:
1. Ian Kinsler (2B)
2. Torii Hunter (RF)
3. Miguel Cabrera (1B)
4. Victor Martinez (DH)
5. Austin Jackson (CF)
6. Alex Avila (C)
7. Nick Castellanos (3B)
8. Alex Gonzalez (SS)
9. Rajai Davis (LF)
It was a beautiful day and gates opened at 10:30 AM. For the first 20,000 fans that come, there were Detroit Tigers rally towels that were handed out! Before the game actually began, however, the Detroit Tigers celebrated their 2013 American League Central Division Championship. This consisted of raising a flag commemorating the championship in the center of Comerica Park, during which Brian McKnight sang the national anthem. The Michigan Joint Guard showcased colors, and afterwards they put a three hundred foot flag into the outfield. Next Chet Lemon, a champion from the 1984 World Series, threw the ceremonial first pitch. During the seventh inning, Amy Gould will sing God Bless America. A member of the United States Air Force, Master Sergeant Michael Miller will be delivering the Game Ball for the Opening Day Game.
For those who didn't purchase tickets for the game, there was a block party being hosted by 97.1 in Grand Circus Park just outside of Comerica Park, where thousands of people watched the game together. The event also included an indoor heated tent, outdoor party, multiple DJs and other entertainment, and food and drinks. Opening Day in Detroit is like a holiday, where people get off work or take their kids out of school early just to watch and enjoy the ball game. Hopefully the season goes as smoothly as these few games have! Let's Go Tigers!