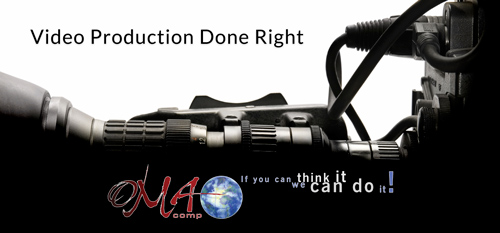 The world is turning toward the Internet for everything from shopping to education and research. This relatively new form of "media" has changed the way in which we do business and the manner in which we reach out to them. In recent years the percentage of a company's advertising budget allotted to video production has been increasing rapidly. For years the only form of video advertising was the television with millions of viewers each day. Today billions of people are turning to the web and services such as YouTube for a number of advertising videos, training videos, and entertainment.
Video Production Is a Complicated Affair
Part of the problem lies in the fact that video production can be a somewhat complicated affair. If you hire a company lacking in the necessary skills, the work they turn out may not be good enough to attract the right clientele if it attracts any at all. Just as the advertising on television must have a high level of polish as well as content, any that you have added to your website or included in sales emails or on sales landing pages must have the same level of quality.
Professionalism is Key
Quality is a word that has many different meanings to an equally large number of people. When it comes to your video production, you want a company who is going to provide you with a compelling and professional finished product. You simply cannot afford to have anything less. Your customers come to you looking for the best possible products or services. If your advertising appears to be of any lesser quality, they may not bother to follow up with visiting your website, let alone taking the initiative to invest in your products or services. Take the time to thoroughly vet the video production service to ensure you will receive the highest possible return on your investment.
Everything from script writing to teleprompter work, you can be well on your way to professional video production services by OMA Comp. Call today at 248-616-3057 or 248-867-0711 for your video production consultation.