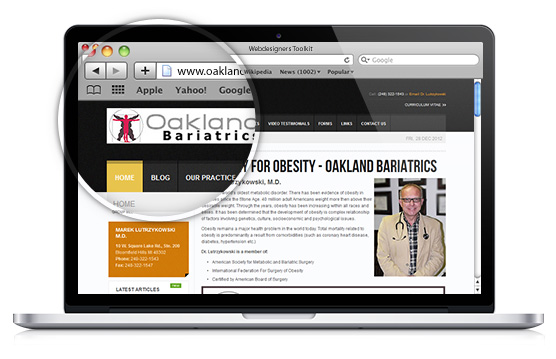 Client: Oakland Bariatrics, Bloomfield Hills, MI – visit website
Obesity is a major health issue. Heart disease, diabetes, and hypertension are just some of the few health problems associated with obesity. Oakland Bariatrics helps to reduce these problems with new techniques and new procedures. They make sure to take care of their patients.
Assignment
Oakland Bariatrics old website was outdated and didn't highlight the importance of good health. With no forms, outside links, and very minimal health information, the website was empty and uninformative.
Solution
Frequent blog post updates. A BMI calculator. Patient forms and patient information. OMA Comp added everything and more to make the new Oakland Bariatrics slimmer and more defined, yet with more content and large noticeability. Making your website health again is exactly what we do.
Components
Website Design
PHP/CSS/Javascript
Social Media Integration