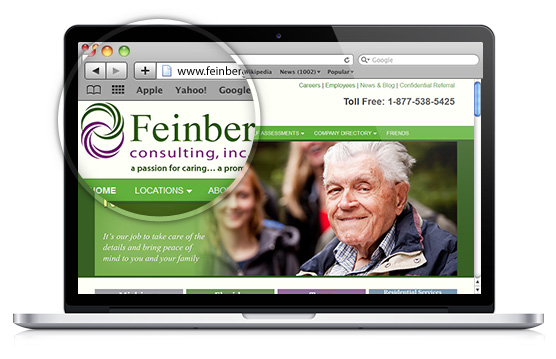 Client: Feinberg Consulting, Farmington Hills, MI – visit website
With the health care field continuing to grow, Feinberg Consulting is truly at the forefront. 16 years of care management experience. Offices in Michigan, Florida, and Ohio. They live by their slogan: a passion for caring…a promise of peace of mind.
Assignment
As Feinberg Consulting began to expand dramatically, there website was stuck in the same spot. Mediocre layout, boring menus, and old information. OMA Comp was given full control to make it better. We delivered.
Solution
During the re-vamp of the entire website, OMA Comp helped Feinberg Consulting reach a new level. Custom software to track and manage cases via all electronic means. Computers, smart phones, tablets. Increase workflow and increasing profit. We are here for you.
Components
Website Design
Custom CMS
Software Design and Management
PHP/CSS/Javascript
Social Media Integration