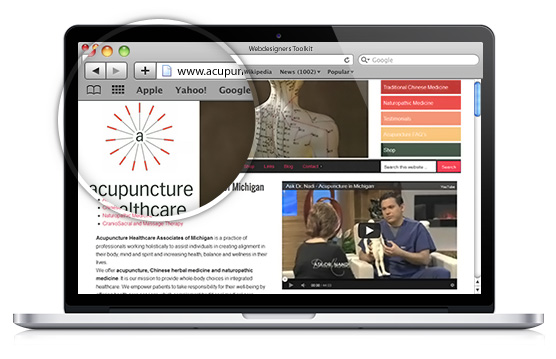 Client: Acupuncture Healthcare Associates of Michigan, West Bloomfield, MI – visit website
Acupuncture, herbal medicine, and naturopathic medicine. On a mission to empower patients to take responsibility for their well-being. Acupuncture Healthcare Associates Michigan is on a true mission of aligning body, mind, and spirit.
Assignment
Health and wellness businesses are traveling on the wave of prosperity. Our goal was to create a new website that had motion and balance, something that the old website was lacking.
Solution
OMA Comp built a fluid website on a custom built CMS. ISSUU Free Publishing provided a physician's brochure that implemented design features from the site itself. Facebook tab integration provides up-to-date wellness information. Wellness for mind, body, and website design unity.
Components
Website Design
Branding
Custom Built CMS
PHP/CSS/Javascript