We are a graphic design company that specializes in marketing graphics. We create high-quality graphics for a variety of purposes, including:
Website design: We can create custom graphics for your website, including logos, headers, footers, and other elements.
Email marketing: We can design eye-catching emails that will get your customers' attention.
Social media: We can create engaging social media graphics that will help you grow your audience.
Print collateral: We can design brochures, flyers, and other print materials that will help you promote your business.
Event marketing: We can create graphics for trade shows, conferences, and other events.
We recently completed a project for the Detroit Grand Prix. Our multi-design capabilities encompasses a variety of graphics for the event, including posters, banners, and social media graphics. Our approach was a hit with attendees and helped to promote the event for our client Priority Waste. They received a shoutout from the organizer with compliments on the designs.
In addition we created a vinyl design for the People Mover. The design has helped to make the People Mover more visible and attractive to riders while promoting our clients brand.
OMA Comp is a leading provider of comprehensive graphic design solutions for businesses of all sizes. With a team of highly skilled and creative designers, we are dedicated to delivering exceptional graphic design services that exceed our clients' expectations.
At OMA Comp, we understand the power of great design in capturing the attention of your target audience and conveying your brand message effectively. Whether you need a captivating logo, engaging website graphics, eye-catching marketing materials, or compelling social media visuals, our talented designers will work closely with you to bring your vision to life.
Our design process begins with a thorough understanding of your business, industry, and target market. We take the time to research and analyze your competitors to ensure that your graphics stand out from the crowd. From concept development to final execution, we pay meticulous attention to detail, ensuring that every design element aligns seamlessly with your brand identity.
With our extensive experience across various industries, we have the expertise to create designs that not only look visually appealing but also drive results. We combine aesthetics with functionality, ensuring that your graphics not only attract attention but also engage and convert viewers into loyal customers.
In addition to our exceptional design skills, we also prioritize customer satisfaction. We believe in clear communication, timely delivery, and responsiveness to your feedback. Our goal is to establish long-term partnerships with our clients by consistently delivering outstanding designs that help them achieve their business objectives.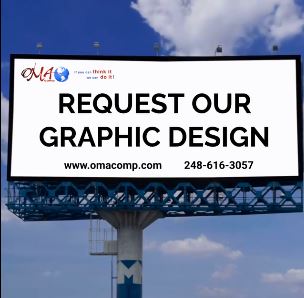 Whether you are starting a new business or looking to revamp your existing brand image, OMA Comp is your one-stop solution for all your graphic design needs. Contact us today to discuss your requirements and let our talented team create visually stunning designs that set you apart from the competition.
Contact us today to learn more about our graphic design services.
Here are some additional benefits of working with OMA Comp:
We offer a free consultation to discuss your needs.
We work with you to create a custom design that meets your specific requirements.
We deliver high-quality graphics on time and within budget.
We offer a satisfaction guarantee on all of our work.
We are confident that you will be happy with the results of our work. Contact us today to get started!